Joint battery electro-permanent lifting magnet system
Joint lifting battery electro-permanent magnetic system is the first design and manufactured by HVR MAGNIETICS. The model lifting magnets are versatile, compact, easy to operate and can be used to lift various steel mateiral.
The jointed battery powered electro-permanent lifting magnets are used in many area, such as handling billets, bundles, bar stock, slabs, steel plate and more. For further information, please contact us.
Joint battery electro-permanent lifting magnet system
Main Features and advantages:
1.Due to using the most advanced European electric control permanent magnet technology, the magnetic system is permanent safety and magnet force is constant.
2.The batteries could be worked for up to 7 to 9 days and their charge state can be real-time monitored.
They also can be widely used without power or access to power inconvenient forum, toxic, radioactive and other environment, through remote control.
3.The controller uses the most advanced electronic circuits, non-contact, can quickly set up the intensity of magnetization, magnetizing time, using remote control.
4.The battery powered lifting magnet system body using integrated structural design, the body can meets impact resistance and maintenance-free requirements .it can serve you for many years.

Diagram of the Joint lifting battery electro-permanent magnetic system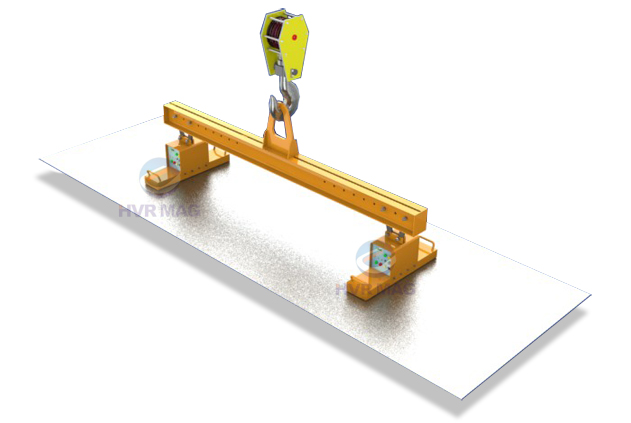 Applications:
1)loading or clearing of flame- or laser cutting machines
2)loading and unloading of large machine tools
3)in steel construction and in shipyard to handle steel sheet and profiles
4)transporting heavy loads such as dies, castings and forgings
Products You May Like